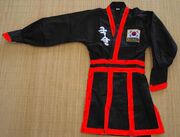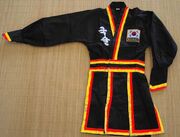 5th through 8th Dahn
Master
Yuh Kwahn Jang Nym means, specifically, Female Master. It is usually used in reference to Choon Ok Harmon as the highest ranking woman in Kuk Sool Won™. There have been others, however, such as Diane Houldsworth Yuh Kwahn' Jang Nym and Cheryl Cherowitz Yuh Kwahn' Jang Nym (no longer with the WKSA) - note that ranked titles in Korean follow the name rather than come before it. [Yuh ] Kwahn Jang Nym wears a ceremonial do-bok (General's Uniform) with red trim at 5th and 6th Dahn, and a ceremonial do-bok with red/gold trim at 7th and 8th Dahn. Furthermore, 5th Dahn sports a white scarf while 6th Dahn makes use of a red scarf. The red scarf is still worn with the red/gold trimmed jacket at 7th Dahn, changing to a gold scarf once 8th Dahn is achieved.
See also
Edit
Ad blocker interference detected!
Wikia is a free-to-use site that makes money from advertising. We have a modified experience for viewers using ad blockers

Wikia is not accessible if you've made further modifications. Remove the custom ad blocker rule(s) and the page will load as expected.