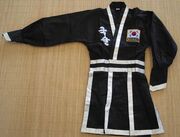 1st Dahn
Assistant Instructor
Jyo Kyo Nym wears a ceremonial do-bok (General's Uniform) with silver trim. Also available is a General's Uniform with yellow tassles.
Jyo Kyo Nym is the lowest rank permitted (with permission from WKSW HQ) to own and operate a Kuk Sool Won™ school.
Jyo Kyo Nym knows 6 Forms & 226 Techniques.
Further training at 1st Dahn exposes the Kuk Sool Won™ student to an additional 5 new forms, 143 new techniques & specialty kicking.
See also
Edit
Ad blocker interference detected!
Wikia is a free-to-use site that makes money from advertising. We have a modified experience for viewers using ad blockers

Wikia is not accessible if you've made further modifications. Remove the custom ad blocker rule(s) and the page will load as expected.