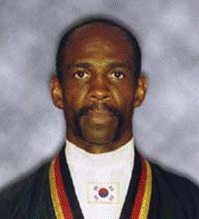 Master Marlin Sims is president of Sims and Associates, the United Martial Science Federation "United Martial Science Federation" and a 9 th degree black belt and one of the first four non-Asians to attain master level in the martial art of Kuk Sool ™. He has trained in the martial arts since the age of 10 and has toured nationally and internationally since 1985. He has appeared on many local, regional and international televisions and radio shows. He has been in national and international publications demonstrating his much sought after knowledge of joint manipulation, the use of Korean style weapons and hyung (body motion). He has distinguished himself by winning many major martial art tournaments and championships in sparring, forms, weapons and self-defense. He is a former Master Instructor for the United States Military Academy at West Point from 1991 to 2000. He is now relocated to Atlanta, Georgia which he has made his home. Master Sims formally Managing Editor of Art of the Warrior, Martial Arts Magazine. In 2005 he resigned from The Work Kuk Sool Won Association, and formed the United Martial Science Federation http://unitedmartialsciencefederation.com// and has recently re-released a new instruction DVD based on the science of martial movement available on the United Martial Science Federation web site www.umsf.net.
Ad blocker interference detected!
Wikia is a free-to-use site that makes money from advertising. We have a modified experience for viewers using ad blockers

Wikia is not accessible if you've made further modifications. Remove the custom ad blocker rule(s) and the page will load as expected.