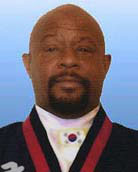 Master Larry White, 9th degree black belt, owner and head instructor of Kuk Sool of California, has trained in the martial arts for 36 years. From May 1976 to May 1979 he was the European Champion. He retired undefeated. Mr. White is a direct student of In Hyuk Suh, the Grandmaster and founder of Kuk Sool Won, and has spent years studying under other masters in Korea. He was even allowed the rare privilege to live in a Korean temple and train with the monks. He has traveled and performed with the World Kuk Sool Won Master's Demonstration Team since 1980.
Ad blocker interference detected!
Wikia is a free-to-use site that makes money from advertising. We have a modified experience for viewers using ad blockers

Wikia is not accessible if you've made further modifications. Remove the custom ad blocker rule(s) and the page will load as expected.