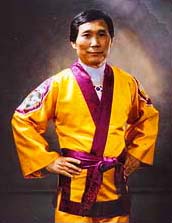 Grandmaster In Hyuk Suh founded the Kuk Sool martial arts system in 1958. In 1974, In Hyuk Suh brought the Kuk Sool Won™ system to the United States, moving the World Kuk Sool Won Headquarters from Pusan, South Korea to San Francisco, California. In 1991, the Headquarters was relocated once more to Houston, Texas and more recently, the Headquarters was established on a 20+ acre facility in Tomball, Texas with expansive training facilities. There are currently over 500 registered schools in the World Kuk Sool Association, Inc. (WKSA).
Kuk Sa Nym (a title bestowed upon In Hyuk Suh) is considered a living history of the Korean martial arts. Despite attempts at suppressing Korean culture by the occupying Japanese (1910-1945), who banned everything from the use of Hangeul and speaking Korean in public, the playing of Taekyon, and the study of non-Japanese martial arts, In Hyuk Suh was able to receive the precious knowledge of his grandfather, Myung Duk Suh. Myung Duk Suh was one of the last instructors to the Korean Royal Guard, and he poured his knowledge into his grandson, In Hyuk Suh, with intense training beginning at age five. Following the death of his grandfather, when In Hyuk Suh was 12, he devoted his life to continued study of Korean martial arts - not only the legacy passed down by his grandfather, but he also did extensive travel seeking out private instructors renowned for their personal family martial art, as well as researching the libraries of numerous Buddhist Temples (which due to neutrality, served as a repository during the Japanese occupation of many outlawed books, including hidden martial art archives).
While considered a master in every aspect of Korean martial arts, Kuk Sa Nym In Hyuk Suh is especially noted for his mastery of pressure points and joint manipulation techniques.
1993 TaeKwonDo Times' Master of the Year
1988 Inside Kung Fu's Instructor of the Year
1984 Black Belt Magazine's Man of the Year
Family:

http://www.geocities.com/mstr_suh/img/family.jpg
Back Row (Brothers) In Suk Suh, In Hyuk Suh, Dr. Myong Soo Suh, In Sun Seo, In Joo Suh
Front Row (Sisters) Kiw Suk Choi, Syung Suk Lee, Choon Ja Hean, Hwa Suk Kim
Ad blocker interference detected!
Wikia is a free-to-use site that makes money from advertising. We have a modified experience for viewers using ad blockers

Wikia is not accessible if you've made further modifications. Remove the custom ad blocker rule(s) and the page will load as expected.