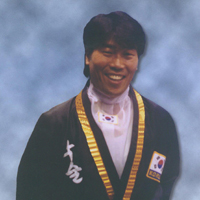 Born in Pusan, South Korea, in 1953, Senior Master Eung Koo Lee began the study and practice of the Korean Martial Arts in 1965, and began the study of Kuk Sool Won™ Martial Arts in 1967 with Kuk Sa Nim Grandmaster In Hyuk Suh, under the direct training of Chong Kwang Ja Nim Senior Master Jung Oh Lee, his master for over 35 years.
In 1977, Senior Master Eung Koo Lee was promoted to Fifth Degree Dan Master under the technique direction of the Kuk Sool Won™ School in Pusan. In 1978, he won the Martial Arts Masters Tournament in Okinawa, Japan, and ascended to the Sixth Degree Dan level in Kuk Sool Won™.
In 1979, Senior Master Eung Koo Lee traveled to Caracas, Venezuela, as head of the Venezuelan Kuk Sool Won, beginning the extraordinary growth of the sport of Kuk Sool Won™ in this South American country.
Senior Master Eung Koo Lee has taught and certified over 100 black belts in Venezuela and Korea. In 1988, he traveled to the United States to initiate Kuk Sool Won™ instruction at the United States Military Academy at West Point, while continuing to direct Kuk Sool Won™ Venezuela. His first Venezuelan student is Master Rolando Valbuena.
In October 2005, Eung Koo Lee was promoted to the level of Ninth Degree Dan Chong Kwang Ja Nim (Senior Master) by Kuk Sa Nim In Hyuk Suh, in his native city of Pusan, Korea, during the World Kuk Sool championship.

Taken from Kuk Sool Won NYC
Ad blocker interference detected!
Wikia is a free-to-use site that makes money from advertising. We have a modified experience for viewers using ad blockers

Wikia is not accessible if you've made further modifications. Remove the custom ad blocker rule(s) and the page will load as expected.